Kansas City, KS — Pharmacy of Grace, Mercy & Truth Healthcare Ministries, and Heart to Heart International partnered this week to provide food, medical attention, and healthcare items to our KCK community. Plus, Santa and Mrs. Claus visited with kids, listened to wish lists, and took pictures. Fox 4 News covered the event on their morning and noon shows.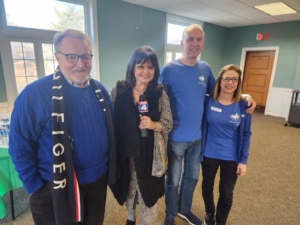 This event was part of the Church of the Ressurection's normal monthly food distribution at the Mercy & Truth facility at 31st and Barnett in KCK. It takes place the first Tuesday of every month. 
Food Insecurity and Healthcare
We know that food insecurity and lack of access to healthcare often go hand in hand, so while neighbors came to us for the food boxes, we wanted to make sure they're aware of our safety net services. They also left with many items to help keep them healthy this winter. Pharmacy of Grace gave out cough drops, tums, thermometers, Tylenol samples, and Kleenex travel packs, plus information about our pharmacy, which is open to anyone regardless of insurance status.  
Pharmacy of Grace also provided volunteers to help Heart to Heart International provide vaccinations. We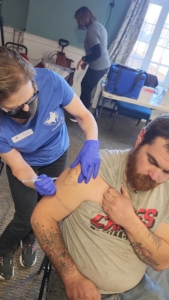 provided 18 flu and 6 Covid vaccines.
HHI also did A1C and blood pressure screenings. Half of the A1C tests were considered "out of range" and several people were referred to Mercy & Truth's clinic for medical care. 
Pharmacy of Grace volunteers also spoke to several people in our community who are struggling to afford medications. People who are uninsured or underinsured can apply for our Grace Meds program which offers reduced prices to help make sure people can access their medications. 
Wyandotte Angels also came to distribute blankets, coats, and other items to help our community keep warm. Aetna and Kansas Civic Engagement Table also handed out health information and free Covid tests. 
Thank you to all our partners for helping give the gift of good health this holiday season! 
https://pharmacyofgrace.org/wp-content/uploads/2023/12/20231205_102051_exported_867.jpg
1080
1920
Pharmacy of Grace
https://pharmacyofgrace.org/wp-content/uploads/2019/08/Pharmacy-of-Grace-Logo-v2.jpg
Pharmacy of Grace
2023-12-07 12:32:50
2023-12-07 12:35:28
Santa Helps Deliver Christmas Cheer, Free Food and the Gift of Good Health